Infernals RPG for Browser & Mobile
2016 | Goodgame Studios
Infernals was our first exploration of the mobile RPG genre. The core loop is built around excessive hero management, team compositions, and round-based tactical combats.
Goal
The game design was inspired by "Seven Knights", a very successful game in the Eastern market. The main objective was to provide a similar core loop for the Western audience.
Challenges
My first game in Unity.

Lot's of parallel UX projects due to a big and fast moving team.
The original game had a very unusual user experience for western audiences.
What I've achieved
Simplifying the interface and user flows without losing any depth of gameplay

User tested art style for in-game graphics, characters, and UI

Improving the overall feedback of the game with clear user interactions and clear user flows

Successfully improved implementation of mobile patterns
About the project
This complex free-to-play online multiplayer RPG had a simple game core loop. The main objective was to understand and visualize the complex economy system around skills, inventory and unlocking mechanics. Most of the time a player will spend more time in managing teams and equipment. This was a heavy lift for every mobile interface.
​
My major tasks were:
Design Lead for browser

UX & Interaction Design for both platforms

Onboarding (prototyping and narrative design)

QA pipeline optimization

Design mentoring
Reverse engineering for western markets
Porting a game that was initially designed for a specific audience is quite a challenge, especially when it is a more complex and rooted title. This fascinating product took us more than eight months from pre-production to global launch with about 25 people working on it constantly.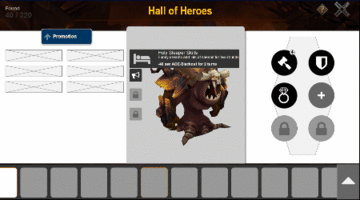 We mainly focused on de-cluttering the interface and removed some hard paywalls and player punishments. According to our player interviews and surveys, these methods along with aggressive monetization were not working that well with the Western audience.
​
Seven Knights" was created for an asian market which comes of with interesting patterns:
Complex hero management

Complex item and upgrade system

Gacha & hard monetization

Complicated interface (Noisy and cluttered)

Player punishment to drive retention

Disruptive CTA banner and button designs
Main target markets were the United States and Europe. With the help of intensive prototyping, we were able to suggest some additional mobile patterns and redesigned the in-game shop for a better conversion.
| Fighting Flow - sample | Information architecture for the core loop. | The mobile experience was also linked to our online store. The store experience had strict demands for the integration. |
| --- | --- | --- |
Conclusion
It was an great learning opportunity for our small UX unit in the project. We worked closely with game design to better understand the holistic concept of the game. Another underestimated research point is the monetization aspect of these kind of games.

For example, balancing the in-game purchases is a thine line between feeling rewarding and generating enough revenue while also staying scalable, so players can not finish / dominating the game immediately.